Trinity Beth Adams
General Information
Gender:
Female
Age:
18
Hair Color:
Browish
Eye Color:
Blueish-Green
Birthday:
January 27th, 1996
Height:
idk
Weight:
idk
Address:
idk
Occupation(s):
shuff
Aliases:
Trinn
Family & Friends
Family:
-.-
Friends:
well
Relationships:
Echo Alexander (girlfriend <3)
Enemies:
-.-
Other Information
Interests:
shuff
Education:
Los Angeles School of the Arts
Weaknesses:
-.-
Series Information
First appearance:
idk
Last appearance:
idk
Portrayer:
Meow
Hiiii.
AppearanceEdit
Hair Color: Brownish
Eye Color: Blueish-Green
Trademark: I'm not sure.
I don't really care about looks, honestly. I just wear whatever I think looks good on me, and that's pretty much it. Oh yeah, I also love headbands. :D
I have a brother, mom, and dad.  I don't usually talk about them. They are all irritating, bratty, homophobic and snobby.
Okay, so I was born in Canada on January 27th, 1996. I was born and raised in Canada. When I was 14, my parents moved to California. I found HA by googling performing arts schools in California. Then I left HA, and I moved here, and now, I attend LASA.
Personality

Edit
I'm kinda shy. I don't really like talking to people, but Echo is making me reach out more and I'm slowly breaking my shell.
Relationships

Edit
My beautiful girlfriend is Echo. We've been together since February 23, but we've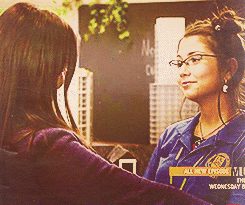 known each other two months before. Gah, she makes me so happy. <3 I don't know if she left me, but one day I just woke up and she wasn't there. :/ She taught me about the world, and now she's gone. :( I miss you. :(
One Direction sucks.

Food is amazing.

I am a unicorn.

when I get stuck on a math problem I feel like life is not worth living 

My favorite movie is Titanic. :D

Sacha Baron Cohen is fabab.

I adore English people. (Except One Direction.)

I'm taken. <3333333333
Community content is available under
CC-BY-SA
unless otherwise noted.