17 Shades of Grey – Child of the folks
– I didn't want us to burn out. I didn't come here to hold you, now I can't stop.
 – I want you to know that it doesn't matter where we take this road, someone's gotta go.

Big guys will cry.
Greyson Bobby Linnison
General Information
Gender:
Unicorn Princess.
Age:
18
Hair Color:
Black
Eye Color:
Brown
Birthday:
December 29, 1995
Height:
Moo
Weight:
Moo
Address:
Moo
Occupation(s):
Student, comedian
Aliases:
Grey
Family & Friends
Family:
Moo
Friends:
Twilight Sparkle
Relationships:
Moo
Pet(s):
A dog named Cat
Enemies:
Moo
Other Information
Interests:
Comedy, making people laugh, movies, surfing, swimming
Education:
Pacific High
Talent:
Comedy, rapping
Weaknesses:
Twinkies
Series Information
First appearance:
My birthday
Last appearance:
The twinkie funeral
Portrayer:
Nigahiga
Appearance
Edit
Hair Colour: Black
Eye Colour: Brown
Trademark: I don't know

I like to dress up in my ninja costume and walk around to creep people out, but you know, they'd call the cops. I wear a hoodie and jeans, most of the time.
She is my mom, who you shouldn't know the name of. She makes good food.
He's my dad who you might have heard of before but I won't name him.
She's my dog. She farts a lot.
I was born here in LA. I've pretty much spent all my life here with my parents. As I grew up, surfing was my life. I'd do it every other day if I had time so the beach was pretty much my second home.
In middle school, I was the class clown. I got good grades, but I still made everyone laugh. That was when I realized my love for Power Rangers comedy.
Personality
Edit
I'm weird. I love making people laugh by embracing my awesomeness that my parents don't get. I have no problem talking to people and holding a conversation. I guess you can say I'm extremely social. If you're asking how to be like me, one simple gif explains how to: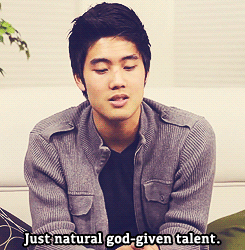 Other people
Edit
She keeps yelling out who I am for the whole world. I'm not a ninja.
Potato buddies forevs.
She's niceeee.
I have a dog named Cat
I have ADHD
I like doing karaoke and pretending I'm Justin Timberlake
I like surfing
I like potatoes
Community content is available under
CC-BY-SA
unless otherwise noted.