Elliana Jiao Leung
General Information
Gender:
Female.
Age:
17
Hair Color:
Brown
Eye Color:
Brown
Birthday:
January 7, 1997
Height:
I'm tall.
Weight:
I'm of a healthy weight.
Address:
I live in a house.
Occupation(s):
Student.
Aliases:
Elle
Family & Friends
Family:
My father and my sister.
Friends:
Some.
Relationships:
Maybe, possibly.
Enemies:
Some.
Other Information
Interests:
Academics, Dance, Singing, Books
Education:
Pacific High
Talent:
Academics, Singing, Dancing
Weaknesses:
Acting
Series Information
First appearance:
My birth
Last appearance:
I'd need a time machine to know.
Portrayer:
Nia
i'm not crying on sundays – Child of my dad.
– I could be a morning sunrise all the time, all the time yeah. This could be good, this could be good.
 – And I can't change, even if I tried, even if I wanted to. My love, my love, my love, my love, she keeps me warm, she keeps me warm.

Hello, I'm Elle.
AppearanceEdit
Hair Color: Either black, dark brown, or chestnut brown.
Eye Color: Brown.
Trademark: My resemblance to the beautiful Fei from miss A.
Fashion is not my top priority, but it is important. I like dressing up nicely, wearing makeup, and accessorizing. I always dress nice enough, but my focus is on comfort.
Elyse <insert surname here>Edit
I haven't spoken to her in years. The last I heard, she had a new boyfriend, home, and job. I wish I could say that I missed her, as she was a good mother to me in the first 8 years of my life, but I can't pretend to care about anyone who doesn't care about me enough to even call.
Christopher LeungEdit
My father is okay. He works a lot, but he always finds time to be a father to my sister and me, and I love that.
Carina LeungEdit
My sister was born two years after me. We don't have the best relationship, since everyone always prefers her, but I think she's pleasant. She can get really annoying much of the time, but I somewhat care about her.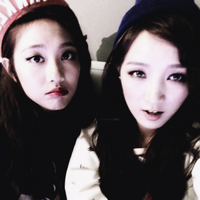 I was born and raised here in Los Angeles, California. I began taking dance lessons at age 5, per my father's request for me to interact with others. I enjoyed dance, but not as much as reading or writing. At age 7, I began to become serious about my education, resulting in my reputation today. My parents divorced when I was 8. I was depressed for a long time, but I got over it. When I was 15, I attended Hollywood Arts High School, leaving my sub-standard public school for a semester. I left Hollywood Arts High School to attend LASA. But, I felt that LASA didn't quite meet my standards, so I transferred to Pacific High, which is much better than one would think.
PersonalityEdit
I consider myself a complex human being.
RelationshipsEdit
Minji is my best friend and January is a good friend. I have nothing else to say.
I hate Twitter.
I love Thai food. Spicy shrimp Tom Yum soup is amazing.
I have never had a boyfriend or a date. I do not plan on having any romantic relationships in the near future, since they interfere with school and work.
I wish to attend Harrington College to pursue a degree in Literature.
I prefer television to movies and books to television.
My best subject is English, while my worst is science.
I enjoy cooking, especially baking.
I apologize if you think I'm a horrible person, but no one is perfect.
Community content is available under
CC-BY-SA
unless otherwise noted.