Blair Pierce
has moved and this page has been archived by request.
welcome to my silly life. – Child of my parental units
– Made a wrong turn, once or twice. Dug my way out, blood and fire. Bad decisions, that's alright. Welcome to my silly life.
 – Mistreated, misplaced, misunderstood. miss 'no way, it's all good', it didn't slow me down. Mistaken, always second guessing. Underestimated, look I'm still around.

Welcome to my silly life.
Blair Ananda Pierce
General Information
Gender:
Female
Age:
16
Hair Color:
Brown (currently), brown with red streaks (formerly, sometimes)
Eye Color:
Dark brown
Birthday:
June 13, 1997
Height:
5'6
Weight:
My doctor knows, I don't. But even if I knew, I wouldn't tell you.
Address:
And I'm not supposed to give this out. But, since you really want it, I live in the Silver Lake neighborhood of Los Angeles.
Occupation(s):
Student, writer
Aliases:
Блеър Ананда Пиърс
Family & Friends
Family:
Liesel Pierce (mother)
Brandt Pierce (father)
Benjamin Pierce (brother)
Caroline Pierce (cousin)
Kaitlin Pierce (cousin)
Friends:
Read below.
Relationships:
None
Pet(s):
I own a dog named Biscuit. My other family members have pets too.
Enemies:
I hate a lot of people that don't consider me an enemy.
Other Information
Interests:
Speaking Bulgarian, that old Oregon Trail game, acting, writing, wildlife/marine biology, public speaking, gardening
Education:
Los Angeles School of the Arts
Talent:
Singing, acting, piano, politics, photography, etc, etc.
Weaknesses:
Perfectionism, being excluded as a child, looks
Series Information
First appearance:
August 20, 2012
Portrayer:
</3
Hey, I'm Блеър, or Blair.
Appearance

[

]
Hair Color: My hair is naturally brown and straight, but recently I've been curling it occasionally and I had recently put red streaks in it, but I took them out.

Eye Color: Darker brown.

Trademark: I've never noticed anything spectacular about myself.
I'm a okay looking person in general. A ton of people tell me that, so that's why I'm saying that. But anyway, I have brown hair, brown eyes, and olive colored skin. I hate makeup, it always messes up when I attempt to put it on like ugh. I wear mascara and that's it, but other than that idk what else to say about physical features.  I recently have been curling my hair and used to put red streaks in occasionally. I think it looks nice, but that's just my opinion. 
I guess I used to dress odd. Like, usually black, dark clothes. I wasn't gothic, as I usually wore bright colored shoes and stuff. But I loved listening to sad songs in the rain and sitting in the dark. Other than that, I wore royal purple and light green and sometimes red. Now, I just dress in all different colors and casually.
Family

[

]
Liesel Pierce

[

]
My mother. She's an okay person, but really annoying. But at the same time, she's a good mom now that I think about it. I love her.
Brandt Pierce

[

]
My father is a doctor. He's sometimes gone all night to all morning, so I have nothing to say. He's fun at holiday parties or on breaks though, and less annoying than his younger brother.
Benjamin Pierce

[

]
Ben's my older brother, but always acts like he's my boyfriend to scare off anyone else. He's.. okay.
My older cousin and Kaitlin's twin. Yeah, she's alright, but we're not close. Carly's ten minutes older than Kaitlin. Or is it ten minutes younger? Eh, I don't really care. But yeah, she and Kaitlin are both in college and I'm not close to Carly. I hardly talk to her, but when we do, our conversations are long. She sort of is bad at conversations though.
Okay. She's my older cousin by three years (technically four, her birthday's in February and mine is in June). We had a really close relationship when we were younger, but then she went off to college and so her homework amount got heavier and we didn't talk as much. She still lives at home, though, and we're nice to each other, just not that close. 
History

[

]
Redoing.
Friends

[

]
She's my best friend. We've known each other for a long while and my life would suck without her. We became friends over being similar, but now we're the best of friends and nothing can change that. 
I've known Timothy for a while and he's like a brother to me. Plus, my real brothers are annoying, so I'd trade him for them. 
I met her recently. I consider her to be a friend.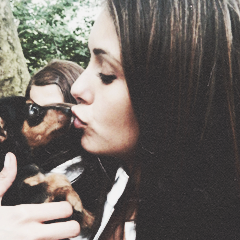 Pets

[

]
Biscuit

[

]
Biscuit is a stray that I found on the streets of New York City when we were vacationing in June 2013. My mom named him, so don't ask (I still think his name is fine, though). But he's my dog. He can be annoying, but I love him.
Relationships

[

]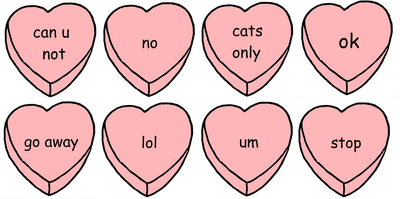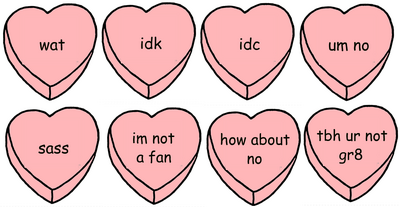 Personality

[

]
I can be weird, but I'm not really into horror anymore because I've moved on. I'm a performer. I'm ambitious, boundless, and creative. But it really depends on the person, so ask someone else. I'm not really nice all the time, but I can be if I like you. And I'm usually always serious.
Trivia

[

]
I have no interest in television.

Nothing is more annoying to me than when people spell my name with an "e".

I hope to attend Harrington College and major in political sciences.
Gallery

[

]