Ashton Eric Parker
General Information
Gender:
Male
Age:
17
Hair Color:
Brown
Eye Color:
Brown
Birthday:
February 20th, 1997
Height:
6'3
Weight:
240 lbs
Address:
*ugly fake wink*
Occupation(s):
Singing, Football
Aliases:
Ash, Quarterback
Family & Friends
Family:
Kaileb Parker (Father), Julie Parker (Mother), Kayla Parker (Sister)
Friends:
people
Relationships:
Michelle Casey (Ex-girlfriend - long story)
I'm her baby daddy.
Enemies:
no
Other Information
Interests:
things
Education:
obedience school
Talent:
singing
Series Information
First appearance:
lol
Last appearance:
lol
Portrayer:
RIP Cory. <3
Hey guys, it's Ashton. You can either read on, or go to a different page, I suggest reading on. I'm a pretty interesting guy.
Appearance
Edit
Hair Color: Brown
Eye Color: Brown
Trademark: What do you think it is?
I'm not a big fan of looks. I just wear what I look good in, that's pretty much it.
Julie Parker
Edit
My mom. ._.
Kaileb Parker
Edit
My dad. He's okay...
Michelle Bailey-Parker
Edit
thanks em
My little baby! Named after two of my best friends (her full name is Michelle Quinn Bailey-Parker) She was born on February 8th, 2013, at 8:30 pm. I love her soooo much. <3
Relationships
Edit
Michelle Casey is an ex-girlfriend of mine, but that is a really long story. I talk about her in one more sentence in the relationships with characters thingy tabby over there.
Eh.
Personality
Edit
I'm an awkward human being who is very tall, but being tall isn't a personality trait. It's an appearance trait.
Relationships with Characters
Edit
I've know her from my old school, and I heard she's here. I don't know if she still remembers me, but honestly, I think she's been at HA too long for her to remember me, but I kinda hope she does. Whatever she thinks, or remembers, she thinks or remembers. She was a pretty good friend. lol she hates me
She is um...very interesting. She ships Emily and I and calls it Ashily.
ex-girfriend now :D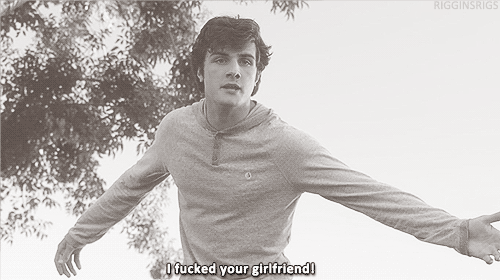 She's really nice, and I want to get to know her better.
I like pie. Blueberry pie.
Cookies are cool too.
Community content is available under
CC-BY-SA
unless otherwise noted.