Aimee-Rose Parks
has moved and this page has been archived by request.
Sometimes it can get so hard pretending it's okay – Child of people
– Running from the Madhouse, they won't take me back. Got the medicines to give me what I need.
 – And just one touch, and I'm infected by the sound, crawling all over my skin, and the sky is falling down. I don't know what's happening, the beats' so sick.

Hello lovelies. I'm Aimee-Rose (It's pronounced Emmy, like in France.)
Aimee Rose Parks
General Information
Gender:
Female
Age:
20
Hair Color:
Red or sometimes black
Eye Color:
Brown
Birthday:
March 29th
Height:
Heh.. why?
Weight:
Heh heh... no
Address:
No?
Occupation(s):
Student
Aliases:
Aimee (Emmy)
Family & Friends
Family:
Well there's my parents, my adopted sister Una, and my lovely daughter Amerie
Friends:
None yet
Relationships:
Michael Trevor (ex-boyfriend, baby daddy lol)
Pet(s):
Nahhh, Amerie has allergies
Enemies:
Well none and I don't want any so...
Other Information
Interests:
Books, blogging, coffee
Education:
Harrington College
Talent:
lol no
Weaknesses:
no
Role-playing Information
First appearance:
Birth yay
Last appearance:
Death nay
Portrayer:
Lana Del Rey
Appearance

Edit
Hair Color: Black or Red.
Eye Color: Brown
Trademark: Gracefulness

I don't know what else to say except for I wear a lot of button ups and babydoll dresses. I wear light makeup, a little mascara and lipgloss will do.
Una Parks

Edit
My little sister back home at Pacific High. She's loud and and if you ask me, irritating. Sometimes a little peace and quiet is nice, but she breaks the barrier for that.
Amerie Parks-Trevor

Edit
My little 3 year old angel back in at home with my parents. God, I miss her so much. Her voice mumbling those incoherent words, her crooked smile, even her keeping me up all night with her crying.I almost don't regret getting pregnant at sixteen, if that was to get my sunshine.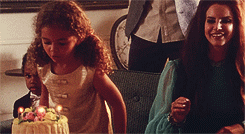 The Folks

Edit
I can not stress enough how much love them. Thanks for raising me to be the girl I am today, and thanks so much for all the help with Amerie, you couldn't be more helpful.
I was born about on a nice spring evening. I went to Krempton Middle School. And then I graduated to Pacific High. Had a baby in between. Now I'm studying journalism at Harrington yay.
Personality

Edit
Well, I'm quiet and kind, at least that's what I think heh...
Pictures Pictures Pictures

Edit
Community content is available under
CC-BY-SA
unless otherwise noted.